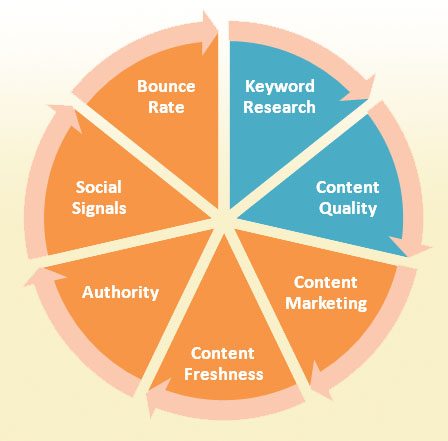 Considering the current situation, put attention in top 8 search engine ranking factors. How rank at top most results of search results is a general question asked in search engine forums. Even Google has disclosed certain criteria to follow to get listed in their search results through SEO starter guide and in their Official Google webmaster central blog, they have not published any of their algorithm secrets which decide the most preferred criteria for improvements in search engine ranking.
Google has well stated all basic practices needed in a website to include in their search results through their published guidelines. They have also stated that doing the same does not guarantee that the websites will be listed in the top search results. Only said that doing the practices describe in their SEO starter guidelines can make the process of crawl, cache and indexing process easier for their search engine mechanism.
If you ask any experienced SEO or a search engine marketing expert, on how to improve your search engine ranking, the opinion or the answer may be differ according to the nature of their SEO strategies. Someone may say that;
You need to get better Google page rank to achieve top search engine ranking.
And if you try to research on how to improve Google page rank, you can fine getting more back links from high page ranked website and high quality website pages, you may get a better Google page rank.
Google page rank is actually a trust value achieved to a website page when it attains few qualities like;
1) Powerful links (especially do follow back links) pointing to your website from high quality websites ( websites already achieved good page rank).
2) When your site get more organic traffic ( natural visits from search engine visits)
3) When your website visitor stay in your website page for more time
4) When your website visitor navigate to many inner pages (pages within your websites)
5) When your visitor generates certain interactions with your websites. For example, registering on your website, subscribing for future publications such as blog posts, newsletters and eMagazines,  making comments, filling a contact submit form etc
6) When your visitor revisit your website pages
7) When your visitor refer your website to his friends, relatives and his connections
8) When a user mention your website in his social media interactions
9) When your website pages, blog posts, videos, articles or photos are shared in various social media platforms
10) When many people discuss about your website pages such as articles, blog posts, videos etc in their social media interactions, sharing, discussions, forum debates etc.
If you can research and find some tips connected to enhance attraction of your website, you easily generate more page views, expand the spending time in your website, encourage your audience to interact with and tempt your visitors to revisit it regularly.
With the plethora of usage of Google search engine in every field of work, there needs to be optimized regulation of your content so that it gets listed in the search engine results. SEO has become a game with ever changing rules by the regular updates from Google algorithm. There have been regular changes and strict updates in the Google search results so that the most relevant and efficient data can be displayed on top. With the help of low quality link building processes, the inefficient links are warded off by Google.
After making a survey on more than 100 SEO professionals, Moz has released their 2013 search engine ranking factors. While this survey result is not the optimized information, you can definitely learn few tips from the survey so as to imply them in optimizing your own website for search engines.
Moz Data Analysis
The leaders of Moz data analysis research on correlations by connecting with ranking factors of both high and low ranked websites. They collected facts and analyzed about 14,000 keywords from Adwords across several contents in the web and then collected the top 50 ranked websites in it. This analysis was done in the era post Penguin 2.0.
Spamming is one such thing that will totally inverse the value of your website. The over optimization of keyword anchor text can be sign of spamming and might result into a more problematic situation. Spamming badly affects the search engine ranking. In the analysis, it was found that many SEO's which participated in the survey showed good results in terms of SEO ranking. They used branded and non-branded terms in the anchor text.
More Findings by the Moz
The Moz analysis also found there was a greater correlation between on-page keywords with body text, title, meta-description, and H1 tags. Moreover, including keywords in both title and body of the page are important factors in search engine ranking.
Before the updating of EMD by Google, the exact match of domain keywords selected seemed to rank well. Many crafty SEOs and business owners utilized these results they earned by the exact match of their fully and partially matched domain names with keywords.
On a concluding note
The Google implements changes in the results from time to time. When strictly implemented measuring factors were constantly updated by Google web team, there was only one possible step available to achieve high gains and rewards, which was through social signals and points by high ending differences among website users.